Wakati utafika wakati ambapo shughuli zote nchini zitakuewa huru kurejelea hali yake,Ni usemi wa rais Kenyatta akitoa taarifa kuhusiana na ajenda zake nane kuu ambazo serikali yakjer inapania kuafikia wakati huu ambapo taifa linakabiliana na janga la corona.
Kiongozi wa taifa amesema amefanya kikao na mawaziri wake wote kuhusiana na uwepo wa kufungua shughuli nchini ,akisema itakuwa makosa ya wakenya wenyewe kurejelea shughuli za kawaida iwapo serikali haijadhabiti janga hilo.
"I have told my Cabinet Secretaries that we cannot stay in lockdown forever. But if we open up the country by lifting the restrictions and the virus continues to spread, it will be our fault for not taking the precautions outlined," amesema Uhuru .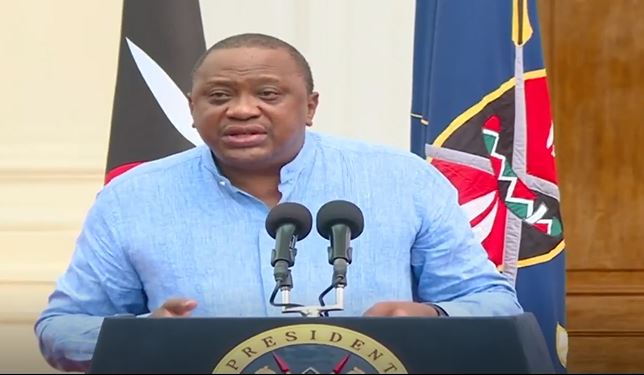 Uhuru ameongeza kuwa iwapo wakenya watatii amsharti yaliyoiwekwa na serikali basi hana shauku kuwa janga hilo litakabiliwa ipasavyo.
"Let us remain true to our countries.We know that many Kenyans are hurting but we do not have a choice but ensure that we deal with this disease," aliongezea Uhuru.
Ashikilia hatua ya kuwataka wakenya kushirikiana na serikali kama njia ya kupunguza maambukizi ya virusi huvyo kuenea nchini akisema anaima kuwa wakenya wakishirikiana basi tutafaulu kama taifa.
"I have no worry that when we work together, we will fight this disease."
Wakati uo huo Kenyatta amesema watu walioathirika na virusi imefikia watu 1192 baada ya watu wengine 31 kupatikna na virusi hivyo.
"We have so far tested 57,640 samples of which 1192 persons have tested positive and lost 50 Kenyans to this disease,' Alisema Rais.