There are only a few days left before president-elect Donald Trump is formally inaugurated as president of the United States.
On Saturday, Barack Obama threw his final, and most splendid of all White House parties.
Actors, directors and musicians partied with the president into the early hours of the morning during the farewell.
In order to say a proper goodbye to America's first black president, here are some of the most touching photos from Obama's eight years:
---
1.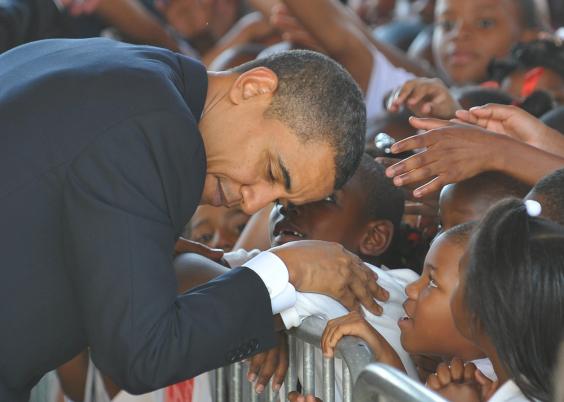 President Obama listens to a student during his visit to the Dr Martin Luther King Charter School, New Orleans, Louisiana, 15 October 2009.
2.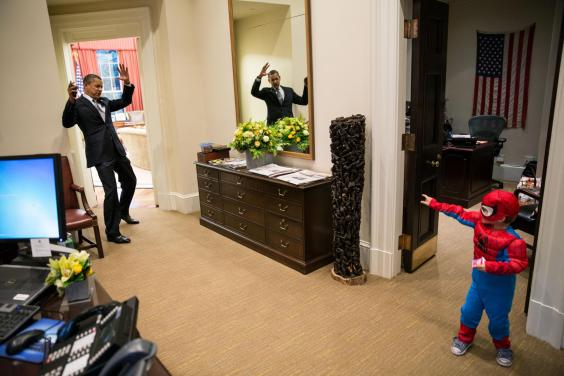 Obama pretends to be caught in Spiderman's web as he greets three-year-old Nicholas Tamarin in the lead up to Halloween, 26 October 2012.
3.
President Obama and First Lady Michelle Obama read Maurice Sendak's 'Where the Wild Things Are' to children at the annual Easter Egg Roll at the White House, 28 March 2016.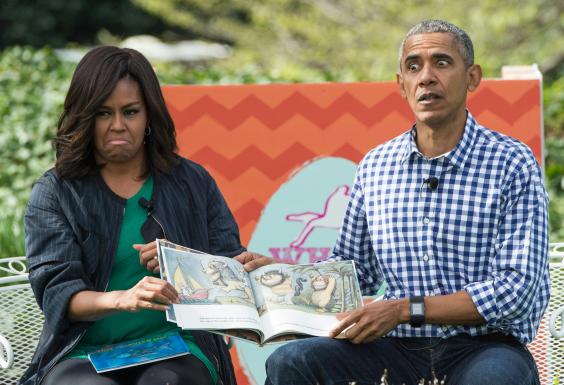 4.
President Obama and Democratic presidential nominee Hillary Clinton hug on stage during the third day of the Democratic National Convention, 27 July 2016.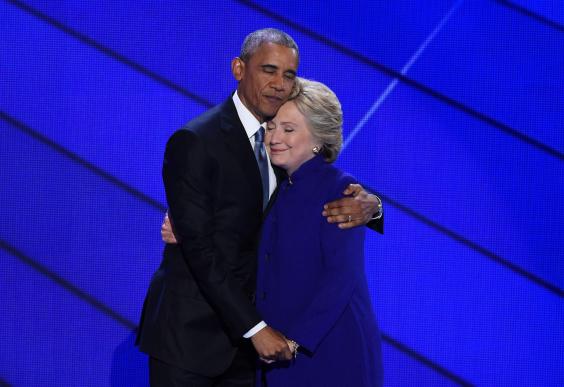 5.
President Obama meets Prince George, 22 April 2016.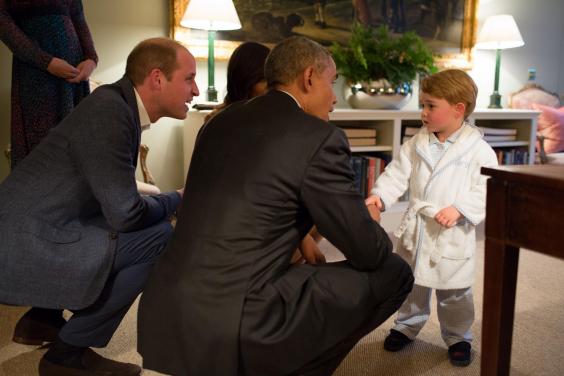 6.
President Obama playing with children at the US Embassy in Manila, the Philippines, 28 April 2014.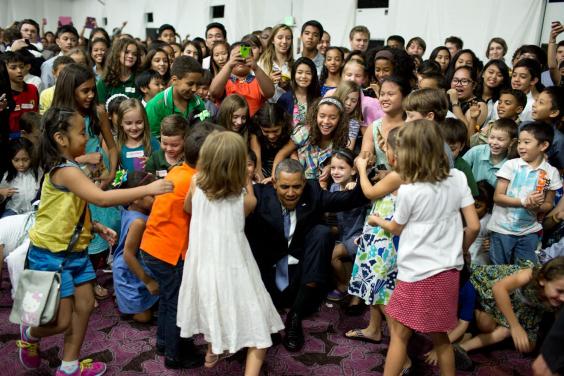 7.
President Obama talking to World War II veteran Kenneth (Rock) Merritt, 6 June 2014.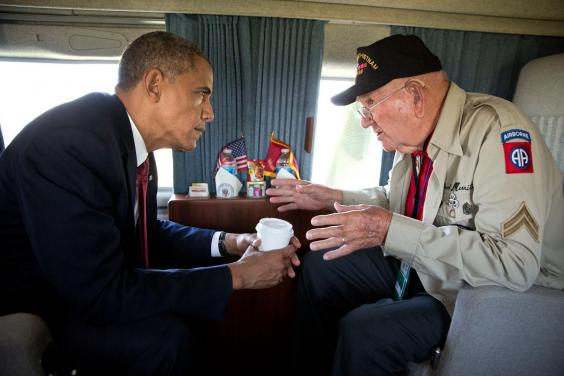 8.
President Obama embraces US Vice President Joe Biden on stage following his victory speech on election night, 6 November 2012.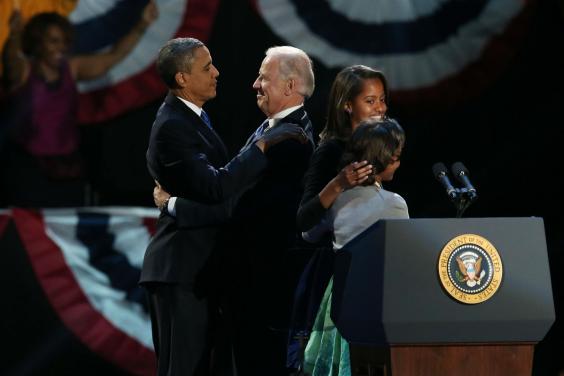 9.
President Obama and Vice President Biden visit the oldest living female US veteran, who is 108 years old, Ms Coffey on 25th July 2014.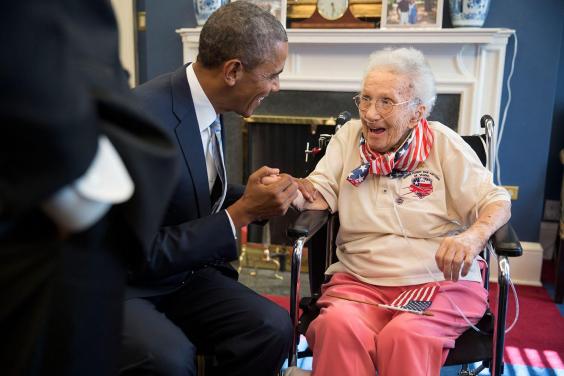 10.
Obama playing basketball with a young boy, 13 August 2012.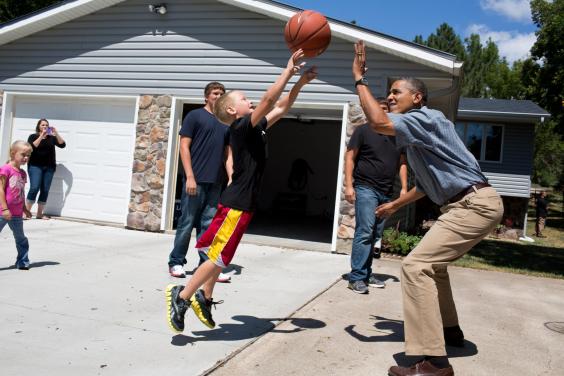 11.
President Obama and First Lady Michelle Obama dancing with 106-year-old Virginia McLaurin, whose work as a volunteer gave her the opportunity to visit the White House, February 2016.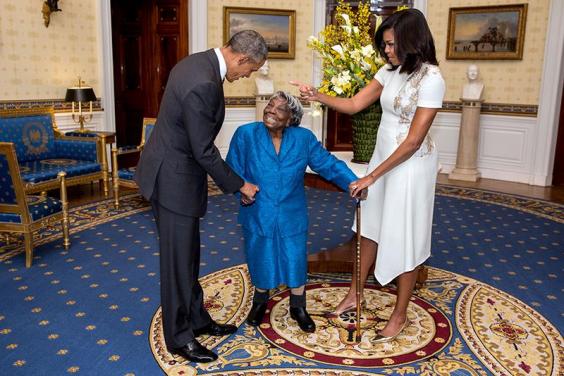 12.
The Obamas share a moment in a lift at an Inaugural Ball in Washington DC, 20 January 2009.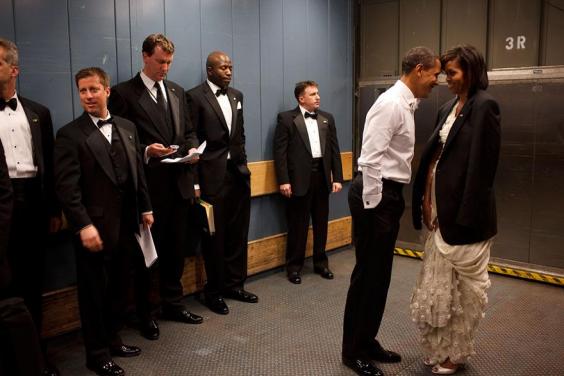 13.
President Obama dances with students and teachers at Dillingham Middle School, in Alaska, 2 September 2015.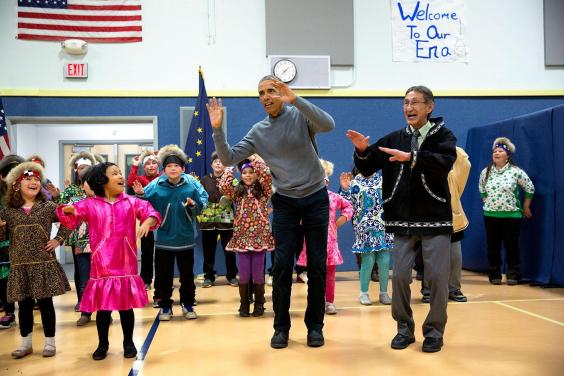 14.
Deputy National Security Advisor Ben Rhodes' daughter Ella, lifted in her elephant costume for Halloween, 30 October 2015.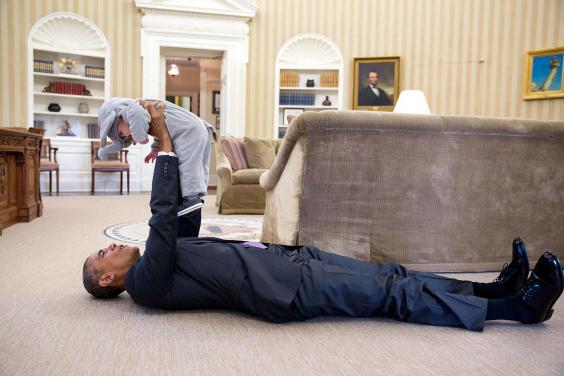 15.
President Obama playing with Bo, the family Portuguese Water Dog, 12 May 2009.